Welcome to the weekly Tutor Tuesday blog!
"We rarely find a program that has such a profound impact on two generations like Oasis Intergenerational Tutoring.  The program is successful because the schools welcome us, our tutors feel supported, empowered and needed, and most importantly, the children benefit from one-on-one relationships with adults who care."  – Marylen Mann, Oasis Founder
At the end of the school year, we take the opportunity to recognize Oasis Tutors for sharing their time and experience with students throughout the school year.  Even though we are not able to gather together, we still appreciate and celebrate each one of our tutors!
Although your time was shortened due to the Covid-19 pandemic, you still provided academic reinforcement, social-emotional support and impacted the future of your students.  THANK YOU for your consistency, patience and perseverance. THANK YOU for preparing your session ahead of time but having the flexibility to put your plan aside when your student needed something different from you that day.  THANK YOU for selecting books that interested your student and gave them a reason to want to read.  THANK YOU for recognizing that student success can be achieved in many ways. THANK YOU for demonstrating the joy of reading and learning.
We also celebrate our special Oasis Tutors who have reached volunteer service milestones or of 5, 10, 15, 20, 25 and 30 years!
It is tradition during this time of the year to share the classic story "Making a difference" by Loren Eiseley, please watch the video below to hear a reading of the story by Mary Click, Oasis National Intergenerational Tutoring Director.
Oasis Tutor Recognition Milestone – Shirley Jones
We are honored to introduce you to Shirley Jones.  Shirley Jones has tutored in the Lawrence Township (Indianapolis, Indiana) school district for 30 years!   She started tutoring at the very beginning of the Oasis Intergenerational Tutoring Program in Indianapolis!  She is our first tutor to reach a 30 year milestone.
Shirley shared her experiences as an Oasis Tutor over the past 30 years.

What motivated you to volunteer as an Oasis Tutor? And 30 years is a long commitment to Oasis Tutoring, what keeps you motivated to continue? 
After my husband passed away, I needed something to do to help others. At the very first meeting of the Oasis Intergenerational Tutoring meeting in Lawrence Township, I knew that tutoring would be something I could do to help children. I have stayed for thirty years because I enjoy it.
Why do you think students need Oasis Tutors? 
The students that we work with need our services. This is a good strong program to help children become better readers.
What does volunteering do for you?
 I look forward to seeing my students and spending time with them. It gives me a purpose.
Do you have a favorite tutoring story to share? 
I meet the nicest people because we all have the same motivation to help children. One of my favorite stories is about a little boy who came to one of our tutoring sessions. He was acting very sad and he told me that his dog had been hit by a car. The vet had to amputate the dog's leg. The little boy was devastated and had stayed awake all night. He said he couldn't tell his teacher, but he could tell me. I felt grateful that we had such a close relationship that he could share with me. We cried and prayed together.
How would you encourage others to volunteer? 
 I would tell them what a good program it is because it makes a difference. I don't get paid, but it is time that is worthwhile. You can't put a price on the value that it brings to the students. We all have the same common goal! When I began my tutoring in Lawrence Township, I could have worked in a different district. I didn't live in Lawrence Township School district and had to drive a distance to my school, but I believed in the Oasis Tutoring program.
What is your favorite book to read to students? 
Every year I read the book, "Our Children Can Soar."  I first heard this book at an Oasis Intergenerational Tutoring program at the Central Library. This book is a beautiful book which is a celebration of great people. It promotes individuals who were pioneers of change and has big beautiful photos that help the children understand the stories.
On behalf of Oasis, the Lawrence Township School District and the students you have tutored we thank you for your 30 years of dedicated volunteer service as an Oasis Tutor!
Facilitator Shout Out
Barb King, Tutor Coordinator, Indianapolis Oasis
Barb King has served in the position of the Tutor Coordinator for the Oasis Center in Indianapolis, Indiana for five years.   She reviewed with us some of the theme projects that have been implemented with tutors and students over this time period.  The first project was a writing/reading project commemorating Hoosier families during Indiana's Bicentennial in 2016.  Another enjoyable project was a book study of Aesop's Fables in which every student received a copy of the book after reading different fables once a month with their tutors.
One of Barb's favorite parts of the Oasis Tutoring program is participating in the monthly support meetings in each of the seven districts and reconnecting with the volunteers.  Barb said this about the tutor meetings,
"The stories that the tutors share uplift me and sometimes bring tears to my eyes.  Along with that is observing the amazing relationships between coordinators and their tutors. Their strong personal bond supports our Oasis Tutoring philosophy of letting the students know that we care for them first, and then build on that to help them improve academically."
Barb encourages all Oasis Tutors to stay strong and well during this time so that when it is time to safely to return to schools, we will be ready.
This quote of written by Forest E. Witcraft is Barb's favorite quote because of how it applies to the Oasis Intergenerational Tutoring program:
"One hundred years from now, it will not matter what kind of car I drove, what kind of house I lived in, how much was in my bank account, nor what my clothes looked like. But the world may be a little better because I was important in the life of a child."
Literacy Learning
How Tutors are using the Tutor Tuesday Blog
After reading about the importance of using rhyme with early readers in our Tutor Tuesday blog on Phonemic Awareness, University City tutor, Ellen Boone, created her own poem "I Like to Make Words Rhyme."  Ellen wrote a story poem of couplets using rhyme on each page. Ellen's daughter in Chicago aided her effort through the addition of whimsical illustrations to delight the both tutor and reader. Ellen has invited us to share her poem with the hopes that you enjoy reading it together with your student.
National Oasis Tutoring Survey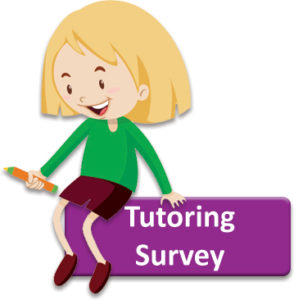 Oasis Tutoring asks all Tutors, Teachers, Principals/Building Liaisons and District Facilitators to participate in the annual Oasis tutoring survey. It is important as it provides Oasis feedback for improvement of the program and measurable data to report to funders. Thank you in advance for taking a moment to share this year's tutoring experiences prior to the Covid-19 break.
Helpful tips for taking the survey:
Taking the survey on a laptop or desktop computer is recommended instead of a mobile device or tablet.
After clicking on the link provided, click on the role you serve in the program ("Tutor").
You may receive other requests or reminders to take the survey, please only take it once.
Share your feedback in the Comments section below!
Until next time!
Oasis Tutoring Team