Bring the Power of Intergenerational Tutoring to Your School
Oasis currently partners with 630 schools nationwide to offer the Oasis Intergenerational Tutoring program to students.
Oasis Intergenerational Tutoring is a volunteer program that pairs older adults with children in grades K-3 to work one-on-one each week as their tutors, mentors and friends.
Oasis tutors use a six-step approach to literacy designed by educators that emphasizes improved reading, speaking, listening and writing.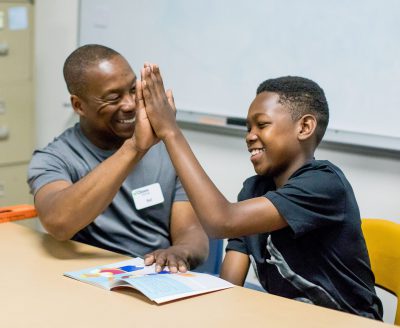 Benefits of Oasis Intergenerational Tutoring
School district partners appreciate several program benefits including:

Meets strategic plan goals for student achievement and community engagement

Curriculum aligned to State Learning Standards

Professional development on best practices and mentoring
2020 Oasis Tutoring Evaluation Results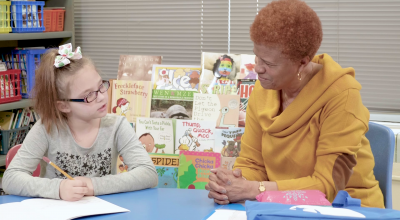 Each year Oasis conducts an evaluation of the intergenerational tutoring program with tutors, teachers and school district staff. The responses below were compiled from the 1,888 surveys received in the spring of 2020.
Number of responses by group

181 Principals/School Liaisons
463 Teachers
1244 Tutors
Principal Responses

99%
Principals who felt that Oasis tutors added a positive element to their schools.
98%
Principals who plan for their schools to participate in the program next year
Teacher Responses

95%
Teachers who reported improved confidence and self-esteem in their students who were tutored.
94%
Teachers who reported improved attitudes toward language arts in their students who were tutored.
88%
Teachers who reported improved classroom participation by their students who were tutored.
62%
Teachers who reported improved attendance for their students who were tutored.
Tutor Responses

97%
Tutors who feel volunteering in the program has added a purposeful element to their lives.
96%
Tutors who plan to continue the program next year
99%
Tutors who perceived a better attitude toward school for their students.
Bring Oasis Tutoring to Your District
To learn more about partnering with Oasis, call:
Mary Click
National Intergenerational Tutoring Director


314-862-2933 x231
Or provide your contact information below and we'll get back to you promptly.
Washington University Study
A research study by the Center for Social Development at Washington University in St. Louis showed that increasing the number of tutoring sessions improves the effectiveness of the intervention.
Oasis is working with school districts and volunteers to take full advantage of this research.
Tutoring Bridges a Gap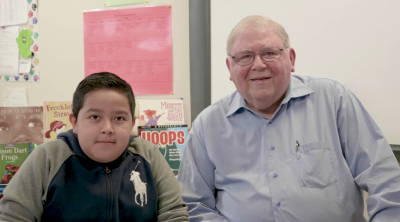 "Oasis Tutoring is a triple win. It helps kids who want and need one-on-one time with a caring older adult. There is a strong focus on literature and reading. And it offers an opportunity to connect with stakeholders who otherwise might not be in the schools." Declan Fitzpatrick, Fox School District